Magboard: Eco Floor & Ceiling Panel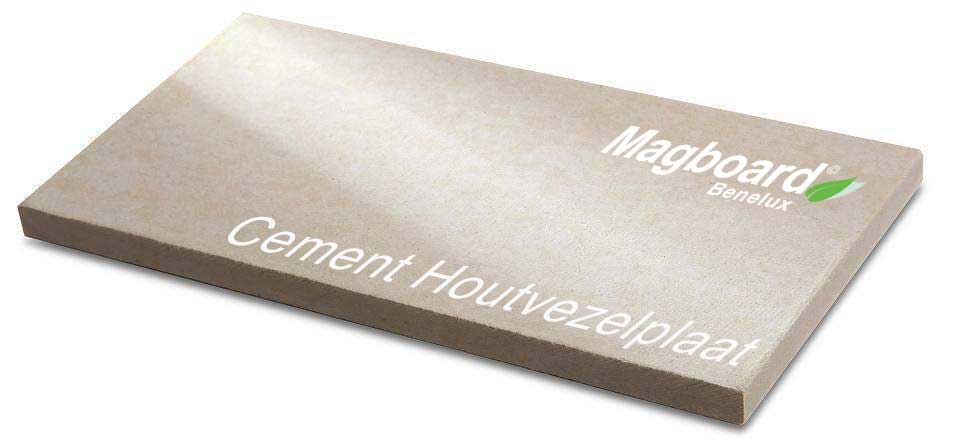 Cement Fiberboard
Are you looking for an easy-to-mount plate for exterior applications or interior space with constant high humidity, then the Magboard Cement fiberboard the plate you are looking for.
Size: 2400x1200mm and 3050x1220mm
Board thickness: 10 – 12 – 16 – 18 mm.
Sound insulation: 18-52 dB
Flexural strength: 9 N/mm ²
Thickness swelling in water (always): < 2%
Density: 1300 kg/m³
Weight: for example, a plate of 2400×1200 12 mm thick weighs 45 kg.
Cement fiberboard is what the name suggests a cement-bound chipboard. Wood chips are through cement (usually Portland cement) and water connected to each other and are then pressed into plates. Cement fiberboards is such interesting material because it is very durable. This is due to the cement which is combined with the wood. It is a chemical compound with a very high alkalinity (pH = 11-13), which kills microorganisms and thereby protects the wood from rot. The cement conserves the wood.
Benefits:
Sound insulating
Fire resistant
Moisture resistant
Resistant to mold, fungi and termites
Easy to edit
Resistant to frost
Widely applicable
In some cases just as cheap as wood / drywall
For more info send us an e-mail